Hip Hop & Rap culture was forever immortalized in the Rock and Roll Hall of Fame when in 2007 Grandmaster Flash and the Furious Five were the first rap group to be inducted. Just two years later the legendary Run-DMC followed suit. Most will remember the group who were a major influence on the early days of hip-hop and other younger kids might just recognize the unmistakable RUN-DMC logo from their friends t-shirts.
Darryl "DMC" McDaniels opens up about his struggle with alcoholism, depression and suicidal in his memoir, "Ten Ways Not to Commit Suicide" and in an interview with People magazine's Jeff Nelson.
Read the article below and at people.com:
BY JEFF NELSON @nelson_jeff
Most know Darryl "DMC" McDaniels for his sick rhymes, hip-hop legacy in groundbreaking group Run-DMC and placement in the Rock and Roll Hall of Fame – but his rock star life was riddled with demons.
Growing Pains: A Tough Transition to Stardom
Growing up in a middle-class family in Queens, New York, McDaniels – a comic book nerd who took up deejaying on his brother's turntable as a preteen – started rapping for fun with friend Joseph "Run" Simmons as a kid. A shy guy, McDaniels started drinking young, turning to malt liquor (Olde English 800 was a go-to) for a confidence booster. By 15, he was dependent on booze to get onstage to perform.
After high school, McDaniels started college at New York's St. John University. But when he, Simmons and Jason "Jam Master Jay" Mizell started performing as Run-DMC, their tracks (first "It's Like That," then "Sucker M.C.'s") took off in 1983 – and so did McDaniels' alcoholism.
"I started from drinking a 40[-ounce bottle Olde English 800] throughout the day, right before I would go on stage," McDaniels, now 52 – who discusses his struggles in his new memoir, Ten Ways Not to Commit Suicide, out July 5 – tells PEOPLE.
"But I had more money, so I didn't have to go buy bottles of beer: I could just buy a case. So that's when it got obsessive. It got to the point where it was five 40s before I went onstage, but it still didn't take effect."
As Run-DMC's fame grew, so did McDaniels' struggles. Though he'd written much of the trio's early tracks, he says Simmons and Mizell didn't respect his creative input shortly after they broke out.
"When I look back, it all started when I was looking for my confidence," he says. "I didn't need alcohol when I was 12 years old, sitting in my bedroom writing just rhymes in my notebooks: it was fun; there was no pressure of, 'Man, I gotta write this rhyme. I hope it'll sell.' When you have expectations, that destroys."
McDaniels said pressure from his band-mates, label and himself pushed him to drink more and more, and by 1991, he was drinking a case of Olde English 40s a day. Until he ended up in the hospital with acute pancreatitis.
"I was in the hospital for like a month and a half, with everything entered [through the] vein because I couldn't take anything orally," he says of his stay, where doctors told him: "'Miraculously, you don't have cirrhosis of the liver, but your pancreas is bruised and battered, but it's still functioning. You've got two choices: Drink and die, or not drink and live.'"
After that, McDaniels quit cold turkey. He knew, "if I drink that, I die."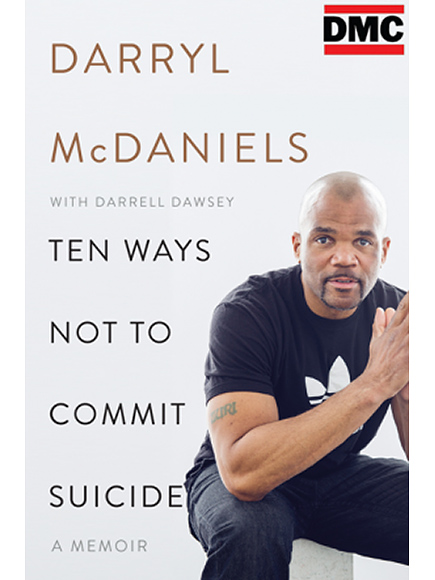 Losing His Voice – Literally and Figuratively
Soon after he found sobriety, McDaniels found love, too – when he met Zuri Alston on the street in New York in 1992.
"I didn't know who Run-DMC was when I met him – I honestly had no clue," Zuri, 42, tells PEOPLE. "And he said that attracted him to me. It was like, 'I just knew you didn't know who I was, and I loved that about you.' We went on our first date, and he was so calm. He just seemed so normal."
The couple married a year later, and they welcomed son Darryl "D'Son" McDaniels Jr. in 1994.
While his commitment to family kept him stable for a time, his music career became more of a stressor.
The year he got married, Run-DMC made a comeback with Down with the King – but McDaniels wasn't happy with his contributions to the group.
"When that reemergence happened, I started getting depressed. I got to this point – but there's gotta be something else. There's gotta be more to life than being DMC, the 'King of Rock,'" he recalls. "And then I lost my voice, the most important thing ever."
Indeed, as McDaniels wrote less and less for Run-DMC, he also suffered vocal problems. In 1999, he was diagnosed with spasmodic dysphonia, a throat condition he says robbed him of his voice.
The man known for rapping autobiographical lyrics couldn't anymore – leading to a mid-life crisis.
Having decided to reclaim his voice and find another avenue to tell stories, McDaniels set out to write a memoir.
An Adoption Revelation – and an Identity Crisis
"I'm at the point where, 'All right, I gotta let people know the DMC story,'" McDaniels recalls of sitting down to write a memoir.
Hoping to gather some details about the day he was born, McDaniels called his mom, Banna. After a short conversation, "She calls back with my father," he says.
Then they dropped a bombshell: "'We adopted you.'"
McDaniels was in shock, reeling over the news Banna and her husband Byford, who had a biological son, Dan, adopted him out of the foster system.
"It was about identity," he says. "It felt like I was living my life from chapter two of my story."
Still feeling the weight of his depression, McDaniels had already struggled with suicidal thoughts for nearly a decade. And the adoption news left him in an even darker place.
"He'd say he was perfect, but his actions were showing differently," says Zuri of her husband, who began drinking again shortly after the revelation. "He was acting out in any way possible, just trying to sabotage who he was. He wasn't happy; you could tell. You could see someone falling – it was awful."
McDaniels began to spiral: feeling depressed, suicidal and struggling with his career and the adoption news, McDaniels' struggles only worsened when he learned his close friend and bandmate Mizell was gunned down at his New York recording studio.
For years, McDaniels wrote in his book, the only thing that got him through most days was listening to Sarah McLachlan's piano ballad "Angel."
"I had sympathy for him and what he was going through. But it took a toll on me and my own person, and I was raising our son," recalls Zuri. "Like, 'You've gotta get some help.'"
In 2004, McDaniels finally sought treatment, checking himself into rehab when – after he'd performed a New Year's Eve set in Las Vegas – he downed a fifth of whiskey in one sitting.
"I drank the whole bottle – not with Coke, like it was water – and I sat and looked and thought, 'I can't get no higher. The tolerance thing was starting to happen.'" recalls Daniels. "You feel good when you drink; you feel invincible. But it wears off, and then you feel worse. I had to think about my wife and son."
Checking into an Arizona treatment facility after living sober for a month, McDaniels learned the root of his drinking.
"I was diagnosed with suppressed emotion: I wasn't telling my truth and telling people the truth because I was so worried about what they would think of me, and I didn't wanna hurt their feelings," McDaniels says of an epiphany from counseling. "I was compromising who I was just to please Run and Jay."
Finding the Missing Piece
McDaniels has been sober since he left the facility in 2004. But even after he got clean, his wife says he still wasn't back to 100 percent.
"He came back, and to me, he wasn't still himself," says Zuri. "I just knew he needed to find his birth mother."
Around the time McDaniels had mulled over the idea, VH1 had gotten in touch and offered to pay for it – as long as they could document it. The hip-hop icon agreed.
Then, on Thanksgiving Day of 2004, McDaniels met his birth mother for the first time.
"She said, 'I gave you up to give you a chance,'" says McDaniels. "I looked at my life: She gave me one hell of a chance!"
Zuri says that meeting his birth mom was like a switch had been turned in her husband.
"It was the missing piece of the puzzle," says Zuri. "When he laid eyes on his mother, I lost my husband, and I watched him fall in love with another woman. I gained so much from that, he became complete, and we've been perfect ever since."
For more on McDaniels, pick up the latest issue of PEOPLE, on newsstands now.
– http://www.people.com/article/darryl-mcdaniels-memoir-alcoholism-depression-suicidal-thoughts-adoption